42m Steel: Project Kinesis
Current Build Phase
Design
The use and requirements of the future client determine the size, speed and GT of the yacht. After the first layout we start developing the general arrangement and building specs, followed by tank tests and engineering.
3
Joining Hull & Superstructure
Extraordinary things happen
This 42-metre steel yacht is the most dramatic advance in performance, ever. This is no idle boast but a fact proven by independent research from two of the world's most respected hydrodynamic laboratories. This yacht defies all preconceived notions on performance by using something that surrounds every yacht - the sea - by harnessing waves to produce power. Using conventional engines combined with a Fast Displacement Hull Form and a sub sea wing or Hull Vane® (option), extraordinary things happen.
First impressions
A contemporary style layout includes large sofas and armchairs, dining for ten guests and sunbathing areas set on either side of the octagonal Jacuzzi. For entertaining, the upper deck saloon is surrounded by glass with floor to ceiling windows and doors out to a 30-square-metre aft deck terrace.
Revolutionary Hull Vane® (option)
The Hull Vane (optional) harnesses waves to produce power. As the yacht moves forward, water flowing over the wing produces lift and as a consequence, thrust. Using conventional engines, a fast displacement hull and Vane, this yacht has a range of over 4,000 miles. Using 30 per cent less fuel, this remarkable yacht is both the fastest and most economical of her size and as a result 750 miles are eff ectively free. More for less.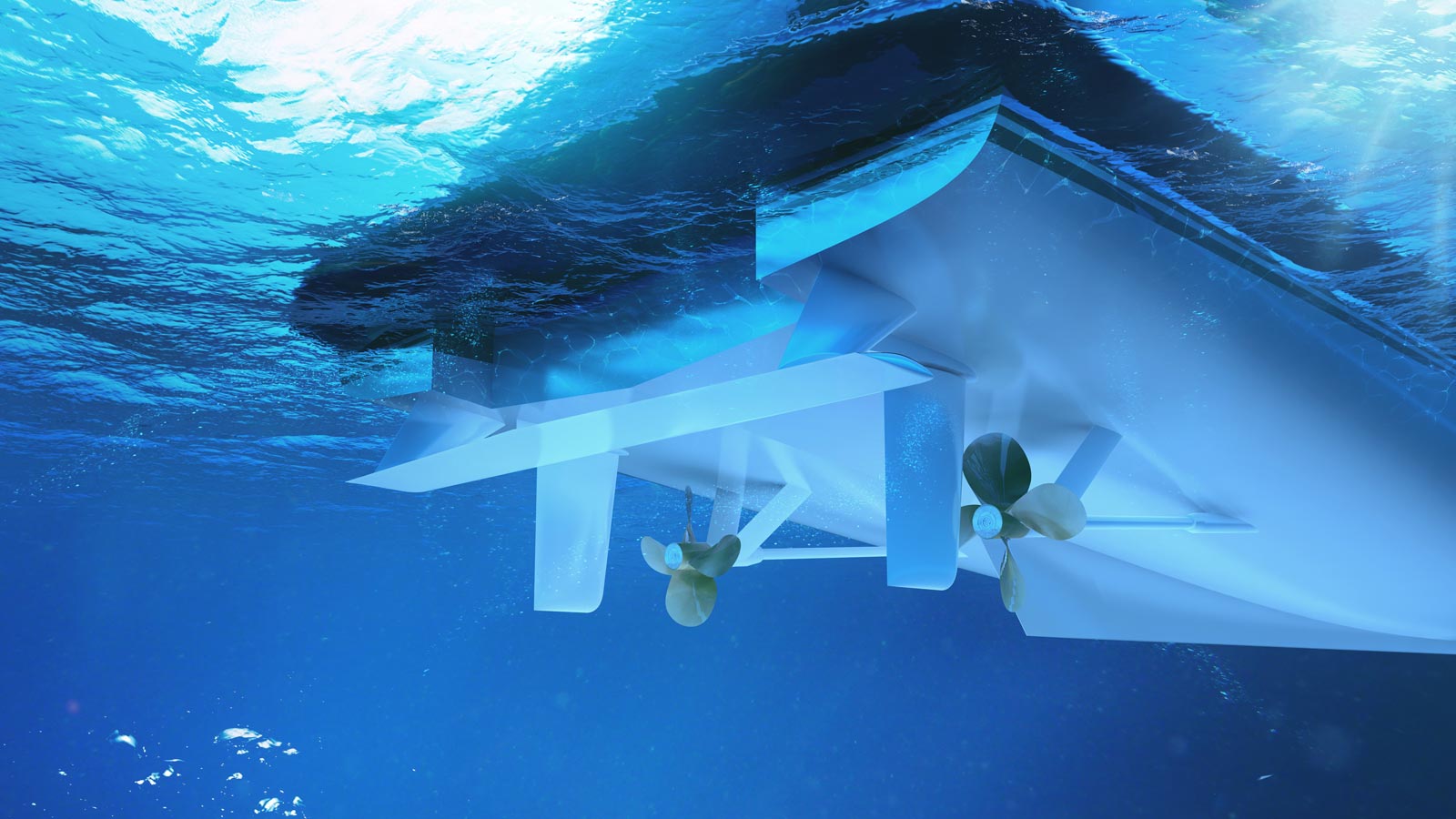 Step aboard
This 42-metre steel motor yacht can be totally custom build. Our collaboration with the world's top interior designers leaves plenty of scope for you to create your own personal style. Contemporary, traditional or minimalist, the design concept of your choice will be built to our highest, award-winning standards.
Specifications
General
Hull type: FDHF
Exterior design: Omega Architects
Interior design: Omega Architects
Hull: Steel
Dimensions
Length over all: 42.40 metres / 139 feet 1 inch
Beam over all: 8.90 metres / 29 feet 2 inches
Draft (half load): 2.56 metres / 8 feet 5 inches
Tonnage: approx. 450 GT
Accommodations
Crew: 10
Guests: 12
Cabins: Full-beam owner's stateroom, two double guest suites and two twin guest suites
Technical Details
Maximum speed (half load): 14 knots
Range: 3,250Nm at 12 knots
Fuel capacity: 50,000 litres / 13,200 US Gallons
Fresh water: 12,000 litres / 3,170 US Gallons
Propulsion Details
Main engines: 2 x MTU 12V 2000 M61
Maximum power: 2 x 600kW
Main generators: 2 x Kilo-pak, each 80kW
Bowthruster: ZF-Marine 80kW, hydraulically driven
Stabilisers: Naiad Dynamics, 2 fins, type 575, zero speed
FEEL INSPIRED? PLEASE CONTACT US:
Mark Cavendish , Chief Commercial Officer | Robert Drontmann , Sales Manager