YN20350 Project Jade
Delivery: Q2 2024
A curvy, sporty exterior design
At 50 metres and below 500 GT, Jade is an all-aluminium, fast-cruising yacht powered by green ocean engines. Heesen's 50-metre fast-cruising class is the first of its kind below 500 GT to comply with IMO Tier-III regulations. A curvy, sporty exterior design by Omega Architects complements Jade's performance and crisp design features.

Heesen's optimised, low-drag hull design with a reduced transom depth allows for a shallow shaft angle. This makes Jade comfortable in rough seas yet perfect for cruising shallow waters. The ultra-efficient hull shape delivers on engineering and adventure, meaning Jade is ideal for both island hopping and longer passages.

First impressions
Jade is the third sister in this impressive class. The sun deck is Laupman's favourite place on board. Its elevated aft deck holds a large whirlpool with sunpads, which is accessed via three steps up. It's this subtle
design feature that allows for a full height multi-purpose tender garage-cum-luxury beach club on the lower deck, with plenty of head room. Another key exterior feature is the downward pointing bow. This provides a good line of sight to the water from the bridge, and helps to accentuate Jade's long, sleek profile.

"The whole superstructure is slightly curved giving her a more elegant aft end, while the use of wrap around glass and loose exterior furniture mean deck spaces have generous seating, but remain airy, light and well detailed," explains Laupman.
Step aboard
Jade is a true siren of the seas. Her interior, imagined by Cristiano Gatto, is a lagoon of creativity. Cool and elegant in its choice of colours, it mixes materials and textured finishes to reflect natural light. Inviting and warm with chic undertones, the lively canvas is a creative starting point, ready to receive an owner's personalised touch.

Natural mirror and tempered glass take inspiration from the seabed. The yacht's namesake stone – jade – inspires bold pops of green. Shaded grey leather, white lasa gold-veined marble and cool stainless steel deliver earthy tones. Jade is a blend of contemporary Italian flair and Heesen's sporty DNA.
Interior design atmospheres
Our shipyard is proud to introduce a new interior design approach for our series yachts. We have collaborated with Cristiano Gatto and his team to create three distinct atmospheres for the upcoming Project Jade. The multi-option interior design will inspire potential clients and help them find the perfect match for their needs. Jade is currently under construction at our facility, and our skilled artisans in Oss and Winterswijk will be handcrafting her exquisite interior. The three settings we have envisioned for Jade are Aria, Terra, and Mare, each with its unique twist. By adjusting the loose furniture and design elements, the client can endlessly transform Jade's ambience.
Aria
A conceptual and airy atmosphere. This interior has a beautiful design incorporating different materials and textures to reflect natural light. The overall aesthetic is warm and inviting with stylish touches. It's the perfect blank canvas for an owner to add their personal touch. The mirrors and tempered glass are inspired by the sky, while the yacht's namesake stone, Jade, is used to create bold pops of green. The warm tones are achieved through a combination of shaded grey leather, white lasa gold-veined marble, and cool stainless steel. Aria perfectly blends contemporary Italian style and Heesen's sporty DNA.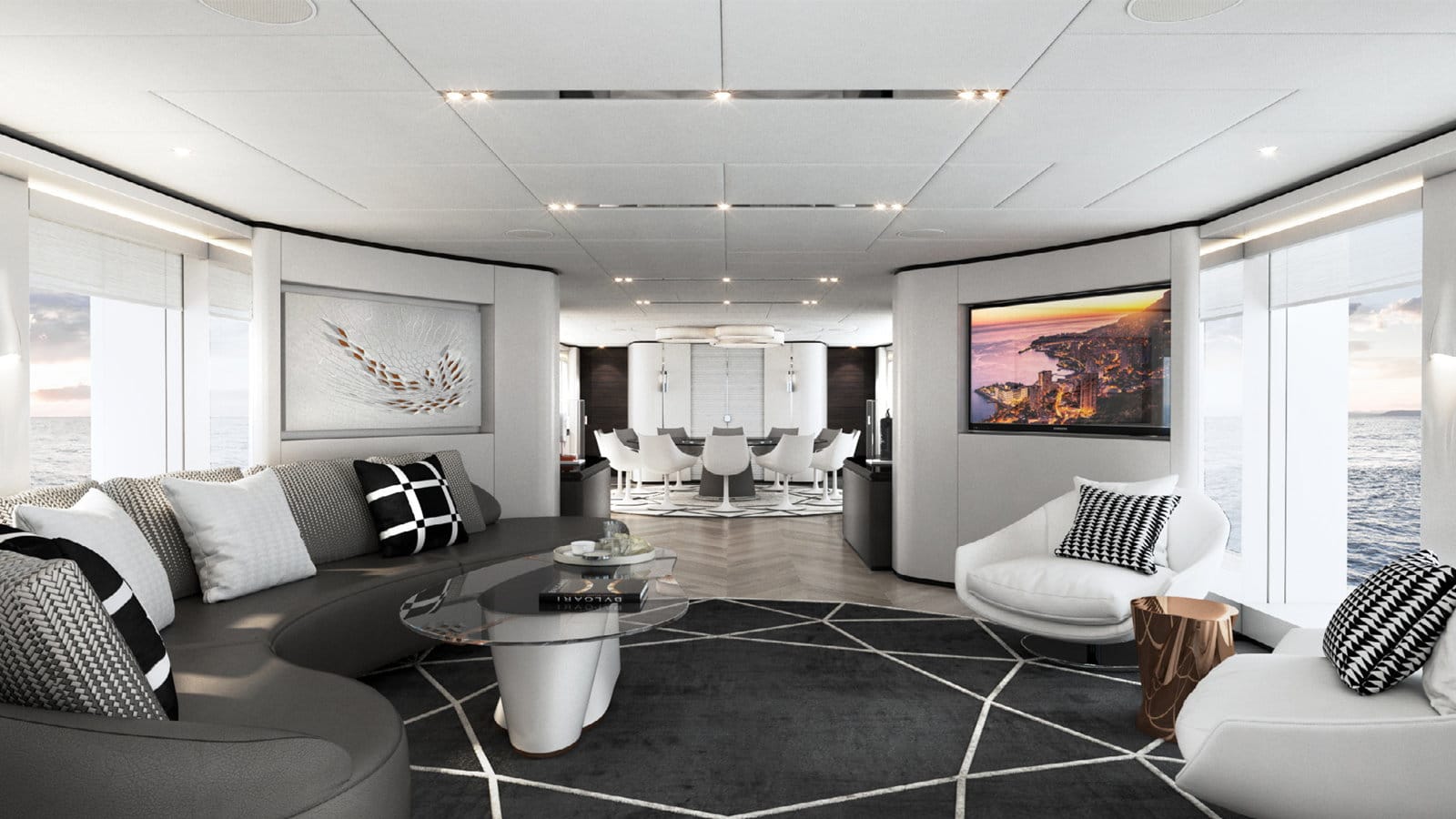 Terra
This style is perfect for clients who enjoy cruising in colder climates, not just in the summer. It features warm tones, soft and cosy materials, and elements inspired by Mother Earth. Tanned leather, red Bulgari, and warm colours create a relaxing atmosphere ideal for cruising in the Hamptons during the winter or in the Mediterranean during the off-season. The formal dining table top in the main saloon features a Patagonia marble top, which adds a special touch to the overall ambience. The custom-made beige, white and warm brown carpet reminds us of the beauty of nature in the fall and early spring. The bespoke furniture by Cristiano Gatto complements the precious interior of Project Jade.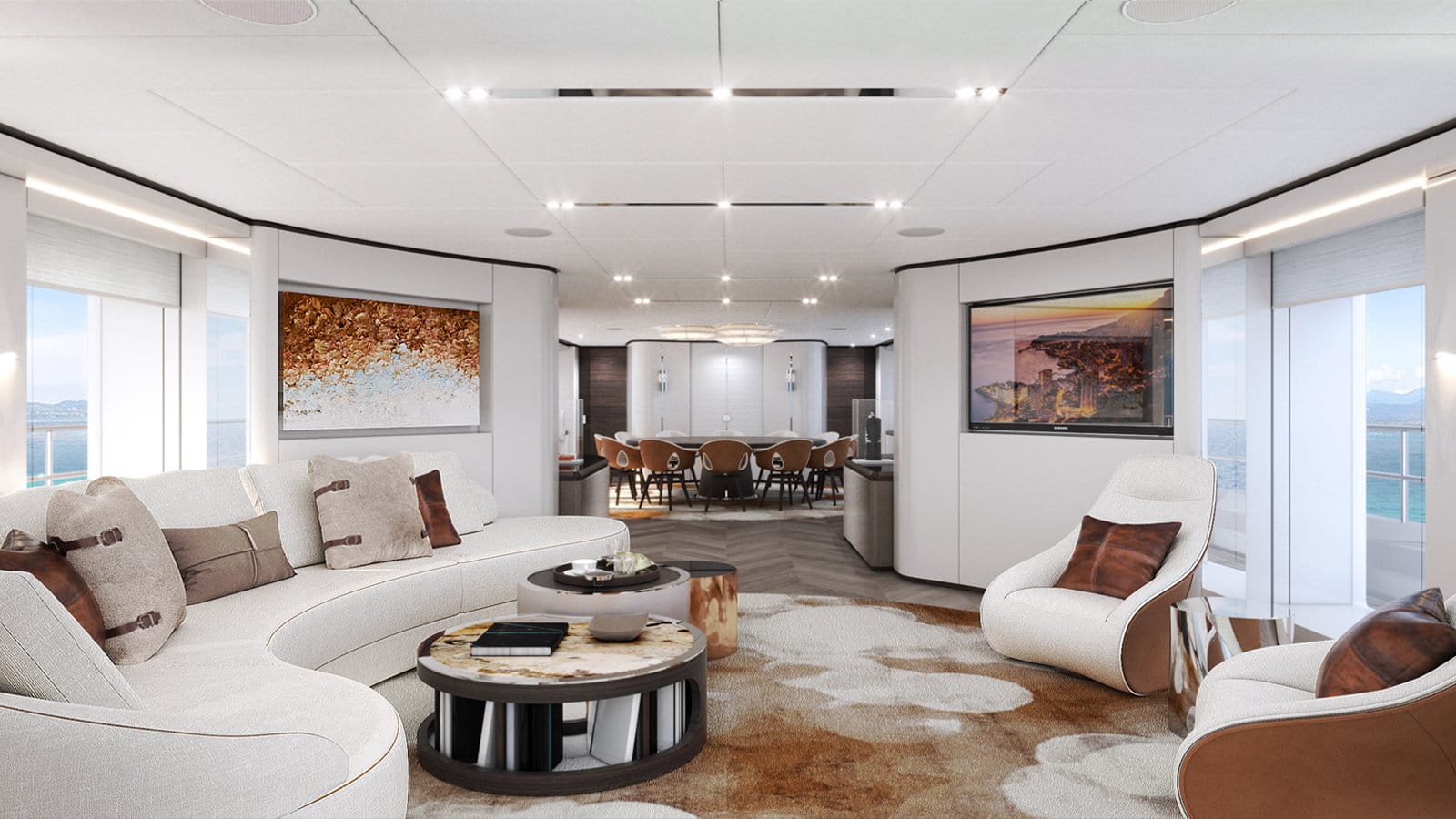 Mare
This version of the decor emphasizes the connection between indoor and outdoor spaces. The custom carpet features imaginary maps of fantasy islands, adding to the design's inspiration. The furniture is both comfortable and reminiscent of water's lightness. For example, the coffee tables give the impression of floating. The metal and marble tops are seamlessly and effortlessly supported by glass bases, much like objects floating in the water. The decor also includes feminine touches, as seen in the dining chairs' backrests, which remind us of Victorian corsets with elegant strings. This unique detail is repeated in other pieces of furniture.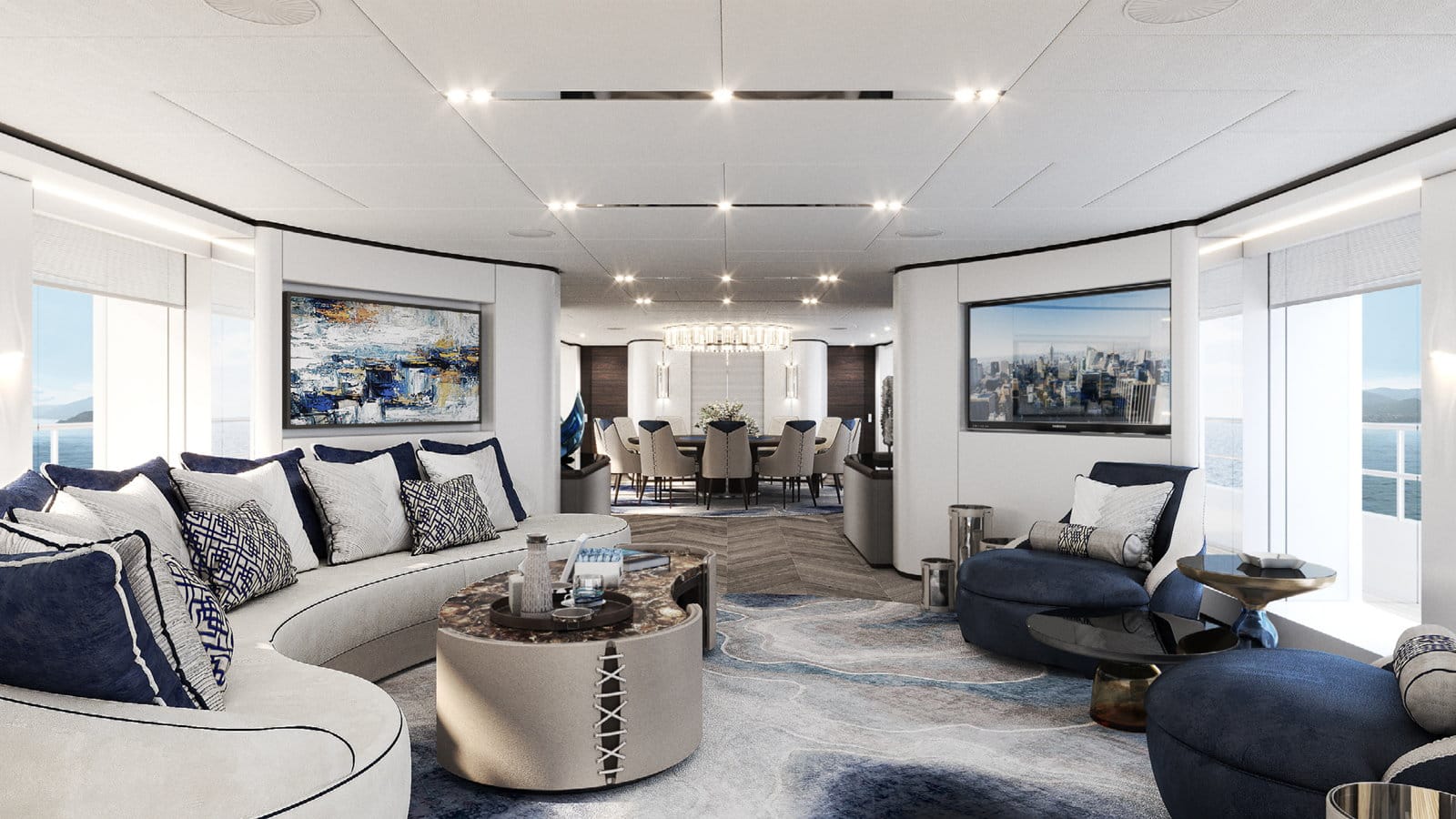 Specifications
General
Hull type: Semi-displacement
Exterior design: Omega Architects
Interior design: Cristiano Gatto Design
Hull: Aluminium
Dimensions
Length over all: 49.98 metres / 164 feet
Beam over all: 9 metres / 29 feet 6 inches
Draft (half load): 2.15 metres / 7 feet
Tonnage: approx. 499 GT
Accommodations
Crew: 9
Guests: 12
Cabins: Full-beam owner's stateroom, two double guest suites and two twin guest suites
Technical Details
Maximum speed (half load): 23 knots
Range: 3,100Nm at 11 knots
Fuel capacity: 51,000 litres / 13,470 US Gallons
Fresh water: 16,000 litres / 4,225 US Gallons
Propulsion Details
Main engines: 2 x MTU 16V 4000 M65L (IMO Tier III)
Maximum power: 2 x 2,560kW
Main generators: 2 x Zenoro, each 118kW, 50 Hertz
Bowthruster: ZF-Marine 90kW, electrically driven
Stabilisers: Naiad Dynamics, 2 fins, type 720, zero speed
FEEL INSPIRED? PLEASE CONTACT US:
Headquarters
Mark Cavendish Chief Commercial Officer
| Robert Drontmann Sales Director
Heesen Yachts North America
Thom Conboy Agent North-America, Mexico, Bahama's & Caribbean