83m Steel: Project Maximus
Current Build Phase
Design
The use and requirements of the future client determine the size, speed and GT of the yacht. After the first layout we start developing the general arrangement and building specs, followed by tank tests and engineering.
3
Joining Hull & Superstructure
Revolutionary design
Our new revolutionary 83-metres concept designed by Clifford Denn is maximus by name, and maximus by nature. This yacht has a hugely flexible platform that offers optimum distribution of both interior and exterior volumes and spaces to achieve a long, low, sleek and narrow vessel.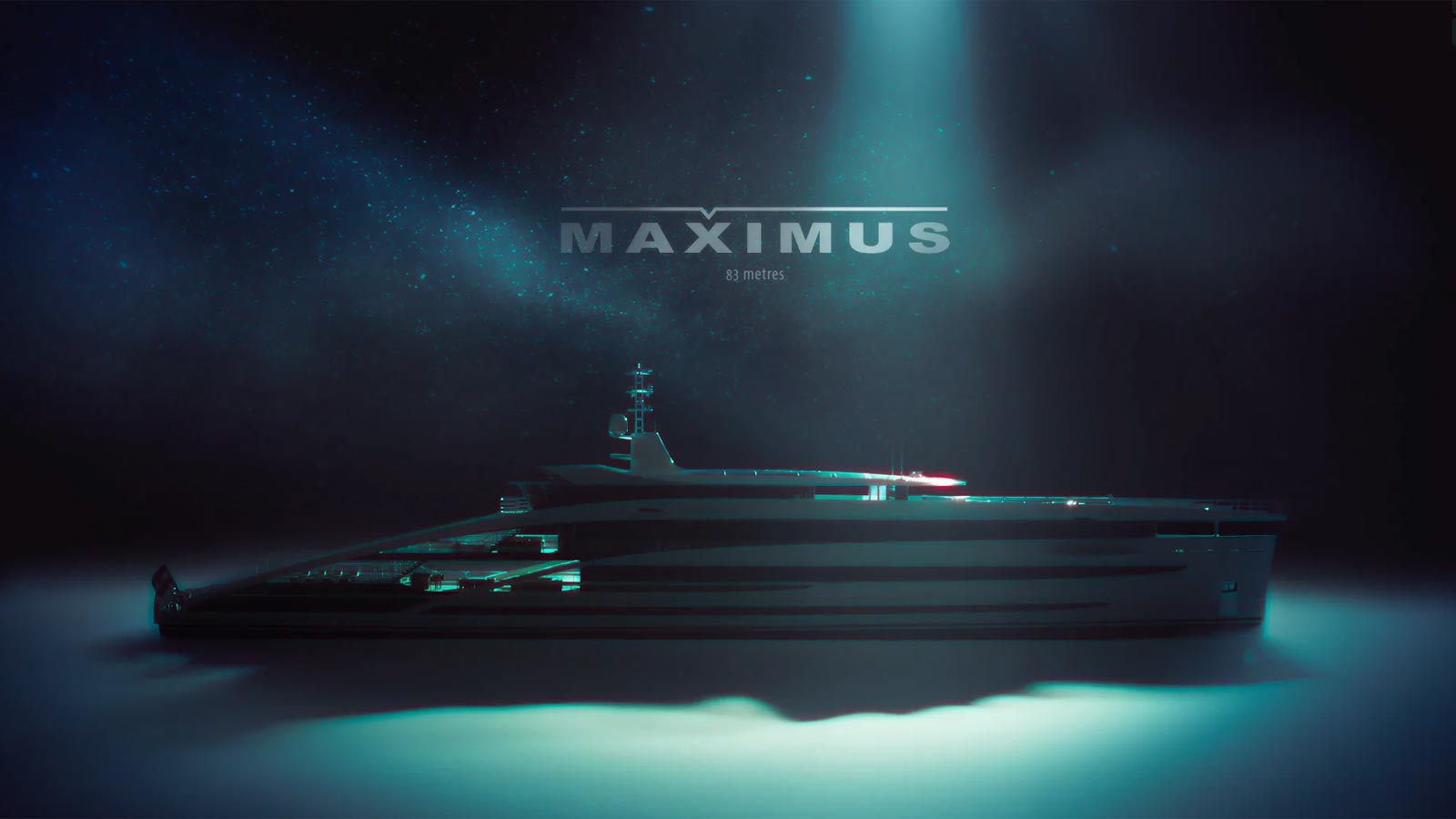 First impressions
Inspired by Denn's experience designing commercial passenger vessels where the Wheel house is located forward and under the Passenger decks, this striking yacht puts the owner experience at the fore. Central to the design is the 100 per cent use of private exterior deck for owner and guest, stretching an unprecedented full length of the boat.
An almost vertical bow enables an extended waterline length and so allows the crash bulkhead to move forward, gaining interior space and volume. This frees up further exterior space at the stern of the vessel, including an impressive pool area,
stunning waterfall features and a large bathing platform. Wide stairs link all external decks, and a fantastic cosy covered external lounge/dining area is located just forward of the pool on the Main deck.
Providing good wind protection for all aft decks and optimal hydrodynamic performance for which Heesen is renowned, this flexible platform, packed with Heesen signature details, can accommodate up to twelve guests, with the option to configure four out of the five guest suites into 2 x VIP suites by opening linking doors, in addition to a stunning owner's stateroom.
Specifications
General
Hull type: FDHF
Exterior design: Clifford Denn Design
Hull: Steel
Dimensions
Length over all: 83 metres / 272 feet 4 inches
Beam over all: 12.5 metres / 41 feet
Draft (half load): 3.5 metres / 11 feet 6 inches
Tonnage: approx. 1800 GT
Technical Details
Maximum speed (half load): 19 knots
Range: 5,500Nm at 13 knots
Propulsion Details
Main engines: 2 x MTU 16V 4000 M93 (IMO Tier III)
Maximum power: 2 x 3,120kW
FEEL INSPIRED? PLEASE CONTACT US:
Headquarters
Mark Cavendish Chief Commercial Officer
| Robert Drontmann Sales Director
Heesen Yachts North America
Thom Conboy Agent North-America, Mexico, Bahama's & Caribbean