YN20255 Project Apollo
Delivery: Q4 2023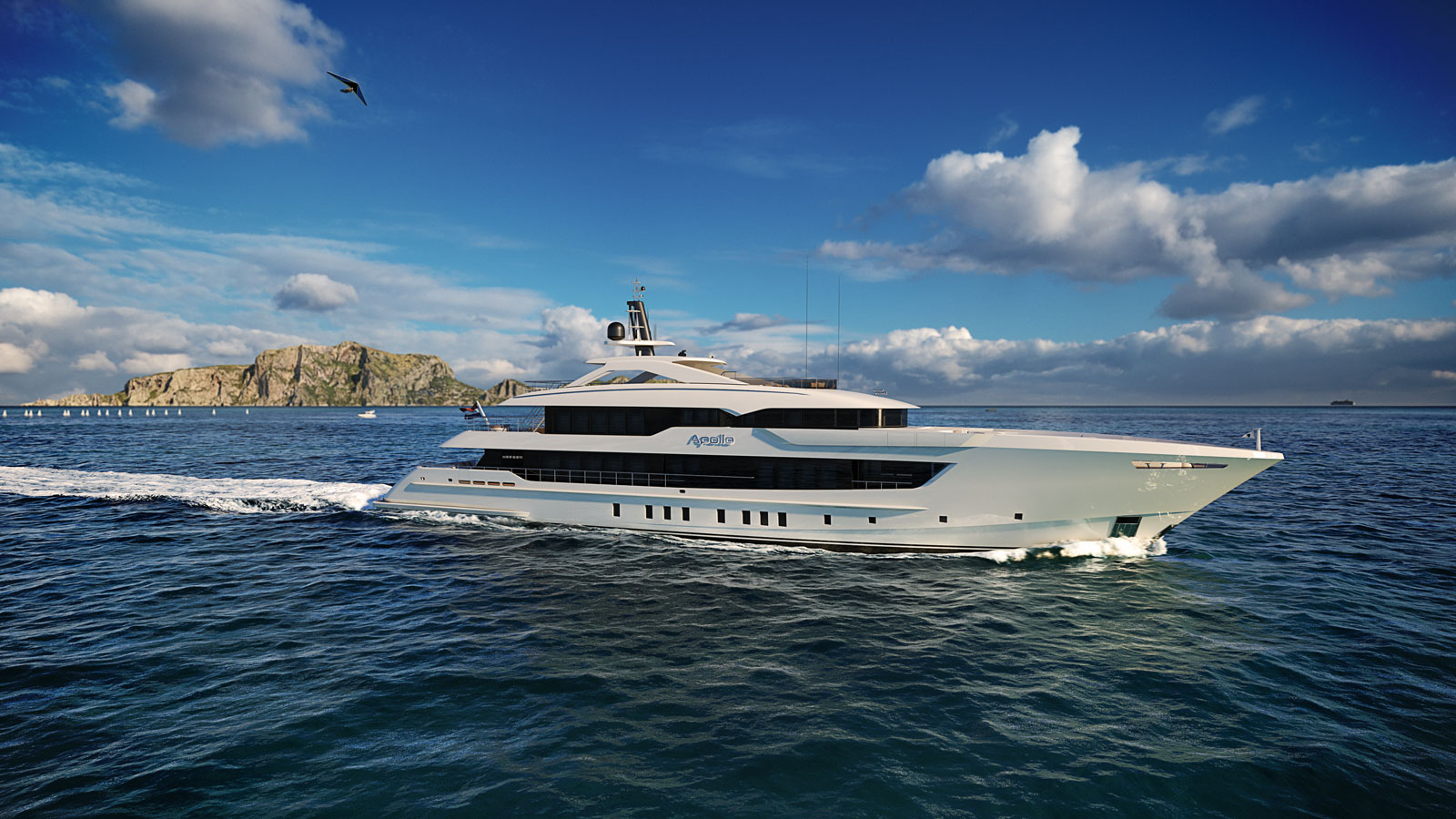 Timeless profile
Heesen's 55-metre steel – a uniquely successful superyacht platform. Worldbeating, fuel-efficient Fast Displacement Hull Design, ocean-crossing range, huge interior volumes and a timeless profile – and available on a short delivery schedule, thanks to Heesen's bold speculative build programme.
Larger windows, assertive shapes, and longer horizontals lend a more aggressive edge to the profile. But take a closer look, and there's a new French balcony in the owner's suite. A transformative innovation.
"This is one of the most impressive innovations on the latest version of the 55-metre Steel," says Heesen CCO Friso Visser. "This is something truly unique that fundamentally changes the space."
Enhancements to exterior deck spaces are not limited to the upgraded furnishings. Functionality in the new-look 55-metre Steel is improved by additional stairways to provide better access and circulation for the crew. Less formal layouts for the aft seating areas complement a new focus on alfresco dining.
First impressions
The muscular exterior lines of Project Apollo, have been revisited by Frank Laupman of Omega Architects. "As much as we love our original design with the vertical windows, we felt it was time to make an evolutionary step," said Frank. "We opted for a larger expanse of floor-to-ceiling glass, without mullions, in the main saloon and sky lounge. Then we took the opportunity to give a slightly more aggressive look to the profile, by using continuous sheets of tinted glass. The horizontal lines stretch the optical length and balance the air draft. The result is beautiful: we retained the family look and feel, but gave it an elegant touch."
Step aboard
"Wallpapers belong to an amazing world, full of different designs and tastes," says interior designer Silvia Margutti. "Customisable items strongly define the atmosphere. Glass and mirrors can be found throughout Apollo's interior - we never get tired of them." Apollo's interior is rich with expensive surfaces and materials - marbles, zebrano hardwood, bronze. "But what gives these things their real value is not their price, but their individuality, and the way they lend themselves to unique applications."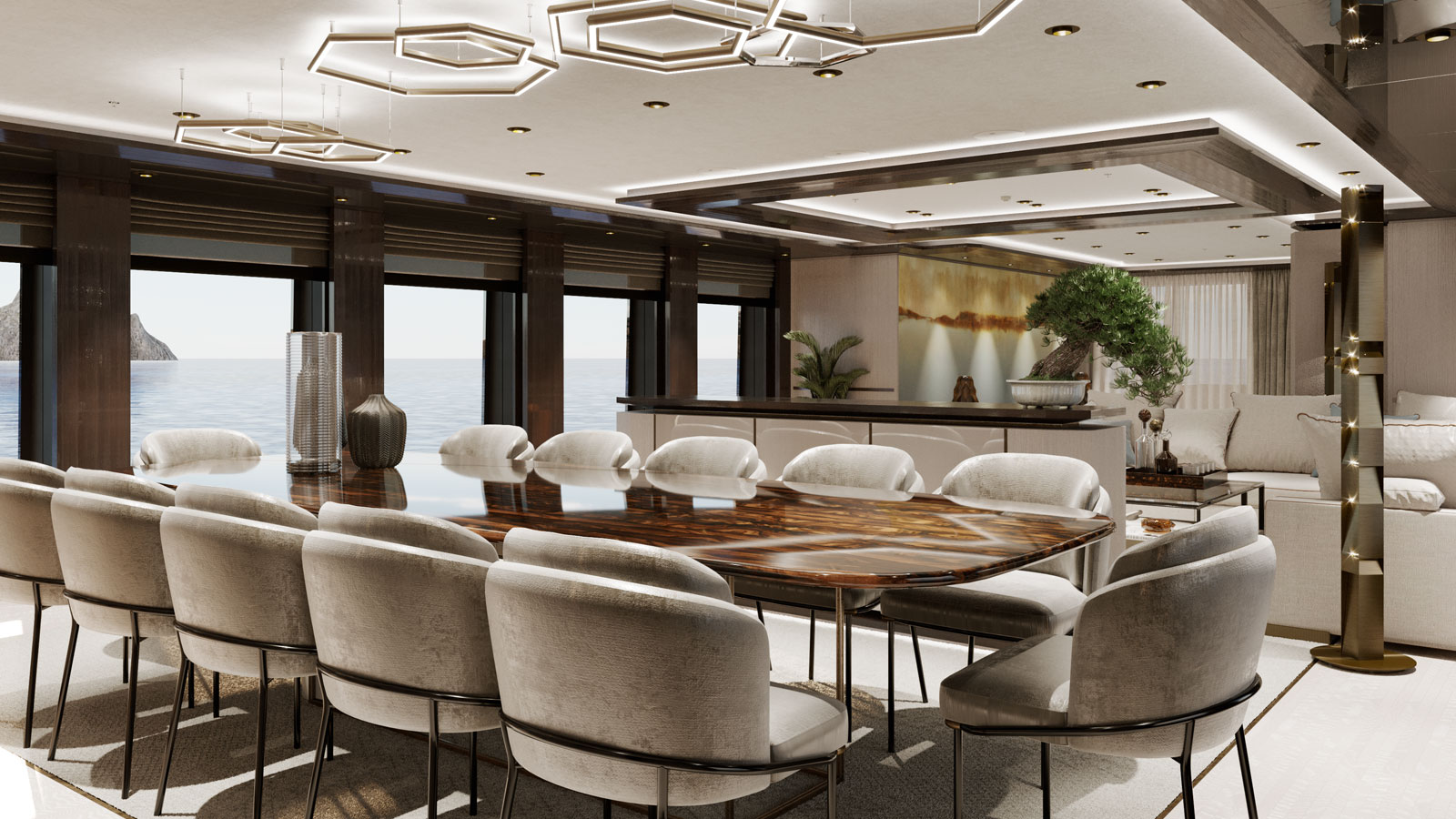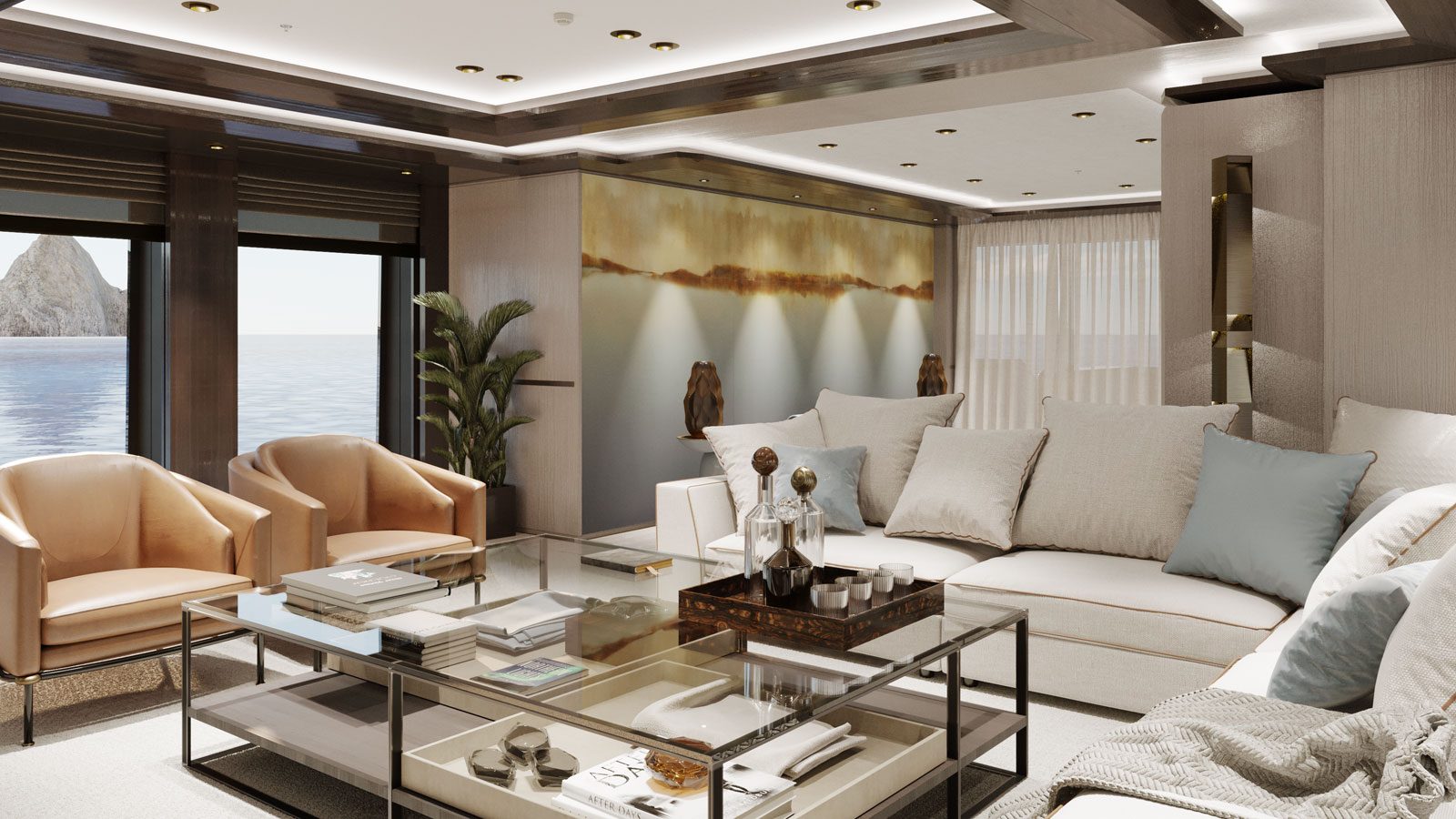 Specifications
General
Hull type: FDHF
Exterior design: Omega Architects
Interior design: Luca Dini Design & Architecture
Hull: Steel
Dimensions
Length over all: 55.0 metres / 180 feet 5 inches
Beam over all: 9.6 metres / 31 feet 6 inches
Draft (half load): 2.85 metres / 9 feet 4 inches
Tonnage: approx. 760 GT
Accommodations
Crew: 13
Guests: 12
Cabins: Full-beam owner's stateroom, two double guest suites, two twin guest suites and one VIP suite
Technical Details
Maximum speed (half load): 15.5 knots
Range: 4,500Nm at 13 knots
Fuel capacity: 100,000 litres / 26,400 US gallons
Fresh water: 24,000 litres / 6,340 US gallons
Propulsion Details
Main engines: 2 x MTU 8V 4000 M63 (IMO Tier III)
Maximum power: 2 x 1,000kW
Main generators: 2 x Zenoro, each 175kW
Bowthruster: ZF-Marine 125kW, electrically driven
Stabilisers: Naiad Dynamics, 2 fins, type 720, zero speed
Sisterships
55m Steel FDHF
FEEL INSPIRED? PLEASE CONTACT US:
Headquarters
Mark Cavendish Chief Commercial Officer
| Robert Drontmann Sales Director
Heesen Yachts North America
Thom Conboy Agent North-America, Mexico, Bahama's & Caribbean